Sorrento is one of the top day trips from Naples, and those who are vacationing in Sorrento and the Sorrentine Peninsula almost always arrive via the Naples airport or train station. The two cities are located about 50 kilometers apart and there are a number of ways to travel between them. If you need to get from Naples to Sorrento or vice versa, read on to learn about all your options!
Driving from Naples to Sorrento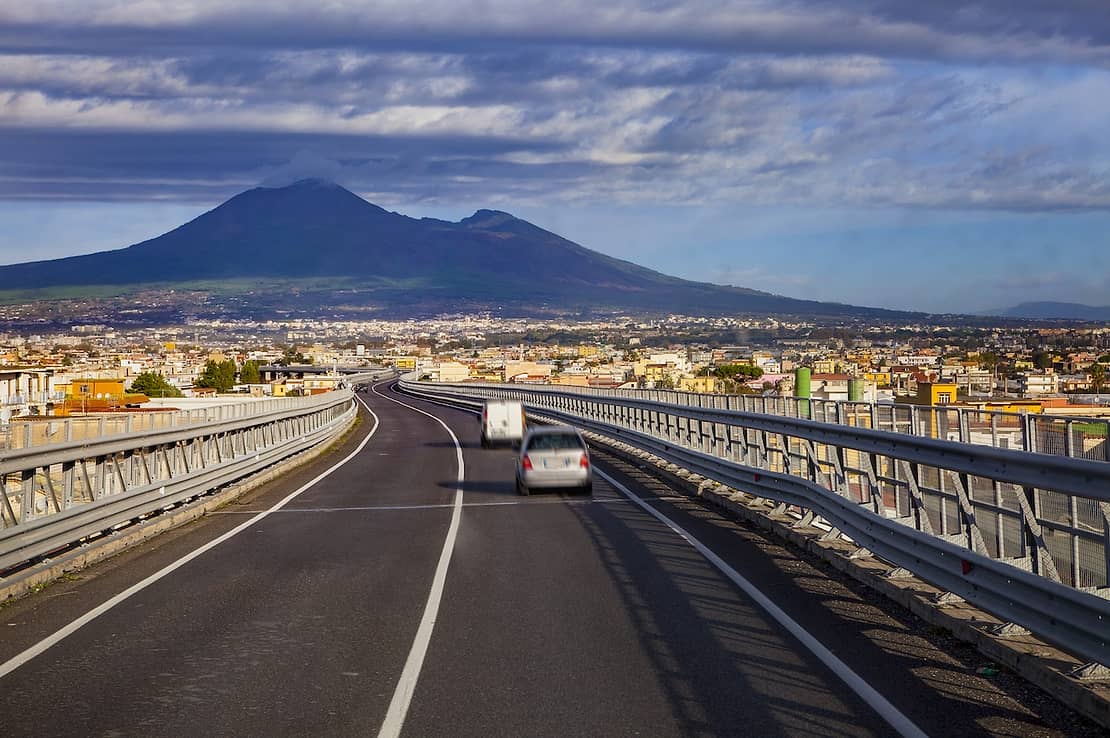 Traveling from Naples to Sorrento by car is one option, which has both advantages and disadvantages to consider. The biggest disadvantage is having to take on the daunting traffic along the coast and find parking, which can be limited and costly. You need to take the A3 Napoli - Pompei - Sorrento highway and exit at Castellammare di Stabia, following the signs for Sorrento. The advantage, of course, is the flexibility and independence of having your own means of transportation during your stay.
Traffic in Sorrento
In ideal conditions, it would take about an hour to get to and from Naples from Sorrento, but traffic between the two cities is almost always heavy and can make the trip much more time consuming, especially near the Sorrento and Naples city limits. On holidays, weekends, and during the entire month of August, traffic jams can reach critical levels heading to Sorrento in the morning and to Naples in the afternoon, so be sure to consider extra time if you need to catch a train, plane, or ferry.
When to Avoid Driving

We strongly recommend against driving on the most critical days, including Sundays in summer and holidays like Easter and the bank holidays of April 25th, May 1st, and August 15th.
Parking in Sorrento
In fall or winter, driving between Sorrento and Naples can be an excellent option, affording you complete freedom and flexibility and making it easier to plan for side trips along the way.
Keep in mind, however, that the cost of parking on the Sorrentine Peninsula can be relatively expensive (around EUR 2/hour or EUR 25/day) and there is no free parking in Sorrento. The largest and most central parking garage is Correale behind Piazza Lauro, while there are additional parking garages and lots near the Sorrento port.
How to Take the Train from Naples to Sorrento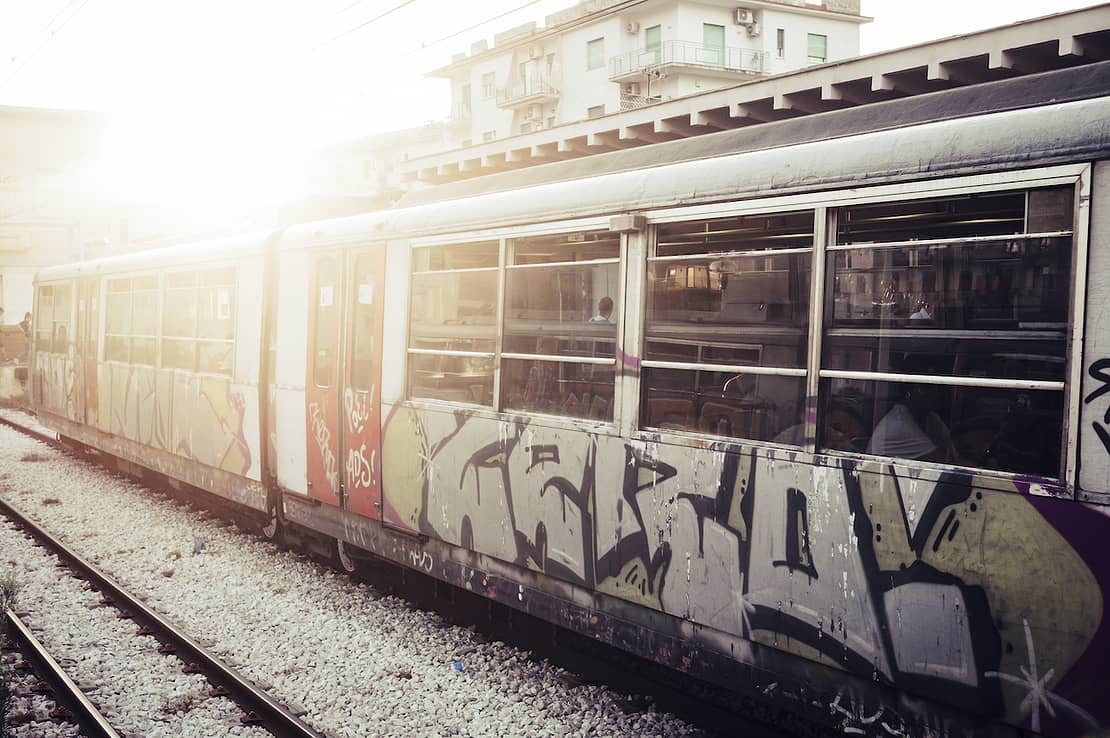 The local Circumvesuviana rail line runs between Naples and Sorrento, departing and arriving from the lower level of the Napoli Centrale train station in Piazza Garibaldi (the same station where high-speed trains from Rome, Florence, and Milan arrive and depart).
This is the cheapest way to travel between Naples and Sorrento, as one-way tickets only cost EUR 4 per person, and is also relatively quick. It takes about 70 minutes to get between the two cities; Sorrento and Naples are the ends of the line and there are a number of intermediate stops.
Keep in mind a couple of important factors when deciding whether or not to take the train to Sorrento:
There is no elevator or escalator to reach the lower level of the train station where the Circumvesuviana trains depart, the trains are not air conditioned, and there are no bathrooms on board. There is also no space to store large suitcases or other bags and the trains are often very crowded so you may not find seats during the morning and afternoon rush hours.
Our Tips for Taking the Train to Sorrento

If you have a number of large bags or are traveling during the peak morning and afternoon commute, we do not suggest taking the Circumvesuviana for the reasons listed above. We also strongly suggest avoiding the train on Sundays in summer or during national holidays. If you are traveling during the evening hours, be particularly aware of pickpockets and avoid wearing expensive jewelry or watches. Put your valuables, cash, cameras, and documents in a safe place and keep your eyes on your luggage at all times.
Taking the Bus from Naples to Sorrento
Taking the bus to Sorrento is particularly convenient for those arriving via the Naples Capodichino Airport. The Curreri airport shuttle departs from directly outside the arrivals gate exit and takes you straight to Sorrento in just over an hour. Tickets cost EUR 10 a person and can be purchased on board; there is also ample space to store luggage.
Traveling at Night?

If you are arriving at Naples Capodichino late at night, the bus is not an option as the final departure is at 9:30 p.m. in summer and 7:30 p.m. in winter. If your flight gets in later, you can book a taxi or car service to reach your accommodation in Sorrento.
Taking the Ferry from Naples to Sorrento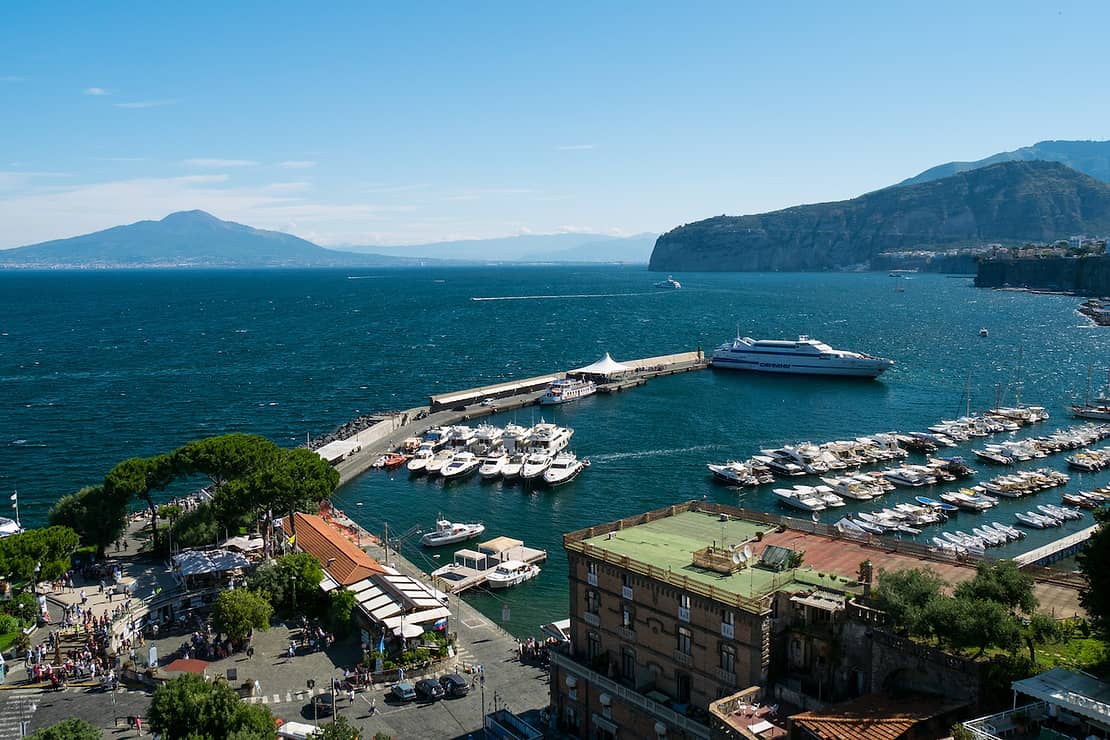 Taking the ferry to Sorrento from Naples is an excellent option if you'd like to avoid traffic and enjoy beautiful views of the coast along the Sorrentine Peninsula.
Ferries depart from Naples for Sorrento from the Molo Beverello pier opposite the Maschio Angioino frequently and are high-speed hydrofoils that only take about 40 minutes to make the trip.
During the winter months, ferries run on a reduced schedule and there are no routes on the weekends between November and March. Ferry tickets cost about EUR 13 one way; large suitcases cost an extra EUR 2 per bag.
Tips for Taking the Ferry

Be sure to take medicine for seasickness if you tend to suffer from nausea.
When sea conditions are particularly choppy, routes between Naples and Sorrento may be suspended.
To reach the center of Sorrento from the port, you can either walk uphill (there are about 100 steps halfway along the route) or catch a public bus or taxi.
Taking a Car Service from Naples to Sorrento
The most hassle-free way to travel between Naples and Sorrento is by far a car service with driver, which is also the only option for those who need to travel early in the morning or late at night.
We also suggest booking a private transfer via car service if you are traveling with numerous or large bags. Many private transfers offer an option of stopping at attractions along the way like the ruins of Pompeii, which is an easy way to add some sightseeing to your trip.
Book a transfer from Naples to Sorrento