Naples is famous across the globe for its excellent cuisine that spans from rustic street food to heavenly pastries. But what many people don't know is that many traditional Neapolitan dishes are also very inexpensive and can be had for pocket change. Here's a helpful overview of the most budget-friendly specialties you can find in Naples, or, to put it more simply, what to eat in Naples for €5. Buon appetito!
Begin with Caffè e Cornetto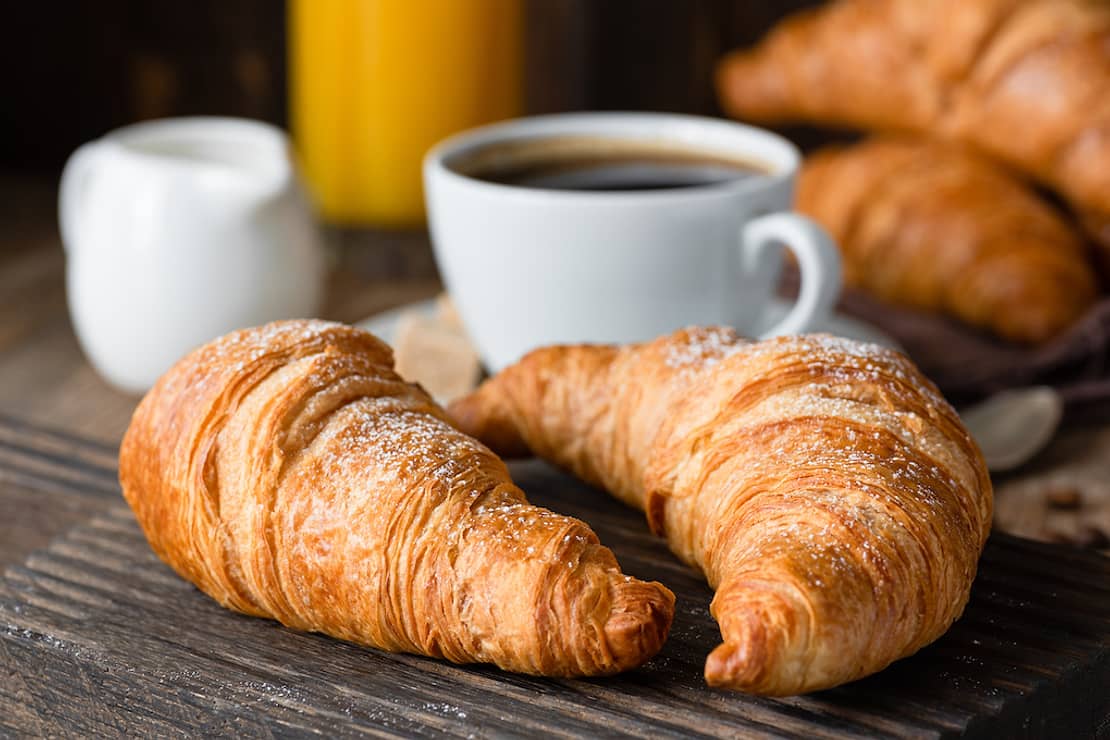 Il caffè (espresso) in Naples is one of the pillars of the local culture, and begins with a morning cup to start the day and ends with a post-dinner cup to help digestion. But many Neapolitans also have a number of espressos during the day as a way to take a break from work or play, and the city coffee bars offer a vast variety of espresso blends and coffee drinks that go beyond the basic "espresso" and include caffè lungo (slightly less dense), macchiato (with a dollop of steamed milk), and cappuccino.
Begin your day exploring Naples with the traditional local breakfast of a caffè e cornetto. A cornetto is the Italian version of a croissant, available with fillings from jam to pastry custard; a caffè is, of course, an espresso.
La Pizza a Portafoglio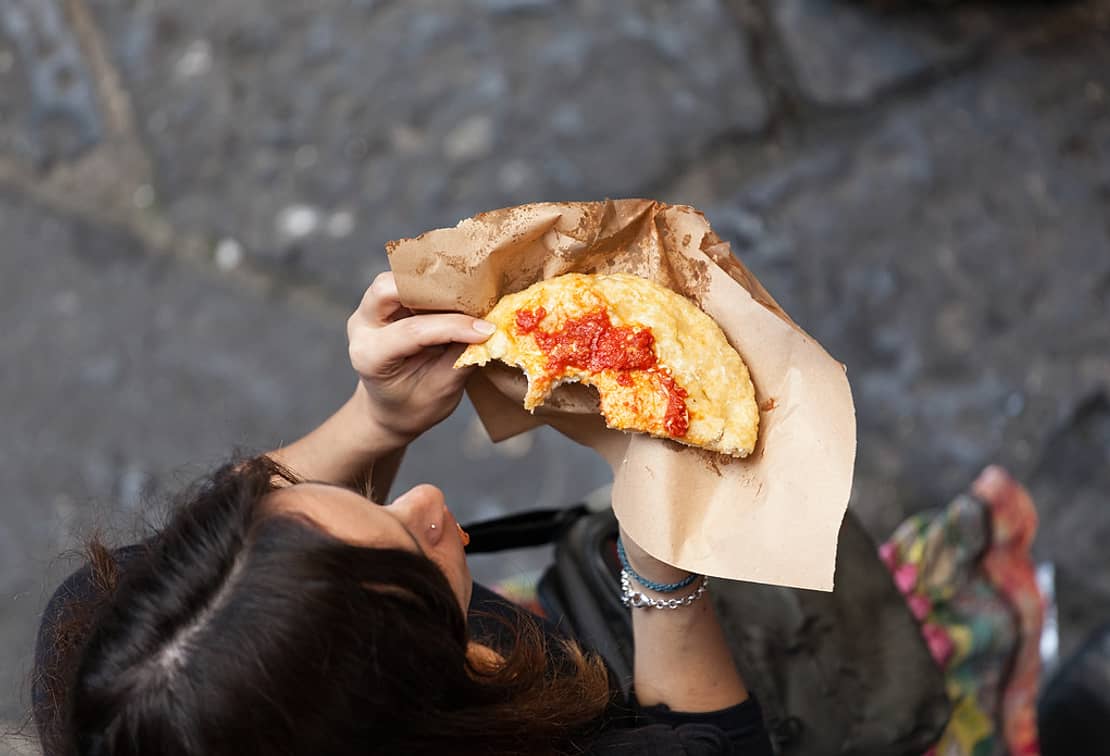 The most iconic epicurean specialty in Naples is hands-down pizza, both delicious and filling and easily had for just a few euros. If you're dining on a budget, pizza is an excellent choice that doesn't sacrifice flavor for affordability.
Keep in mind, however, that prices for authentic Neapolitan pizza vary widely depending upon the type of eatery you chose and the ingredients used to both make the dough and top the pie. Many popular Neapolitan pizzerias offer gourmet toppings that can be quite costly, including truffles, fresh seafood, and prestigious charcuterie, but the most traditional and basic pizzas generally cost less than €5, especially if you opt for take-away.
The most authentic and traditional types of Neapolitan pizza, considered by many to be the "true" pizza napolitana, are the Marinara (topped with tomato sauce, oregano, and garlic), and the Margherita (topped with tomato sauce, fresh mozzarella, and a few scattered basil leaves). Both are simple yet surprisingly tasty, plus they are among the cheapest types of pizza in Naples (and across Italy). Consider that for a take-away Marinara, you can pay as little as €4; for a Margherita, €5-6.
The most budget-friendly of all the pizzas in Naples is a portafoglio, which is a take-away Margherita made by street stands across the city that is slightly smaller than the version served on a plate and is folded into fourths ("portafoglio" means wallet, recalling the shape of the folded pizza). You can pay as little as €3 to savor one of the most beloved Neapolitan street foods in the city.
La Frittatina di Pasta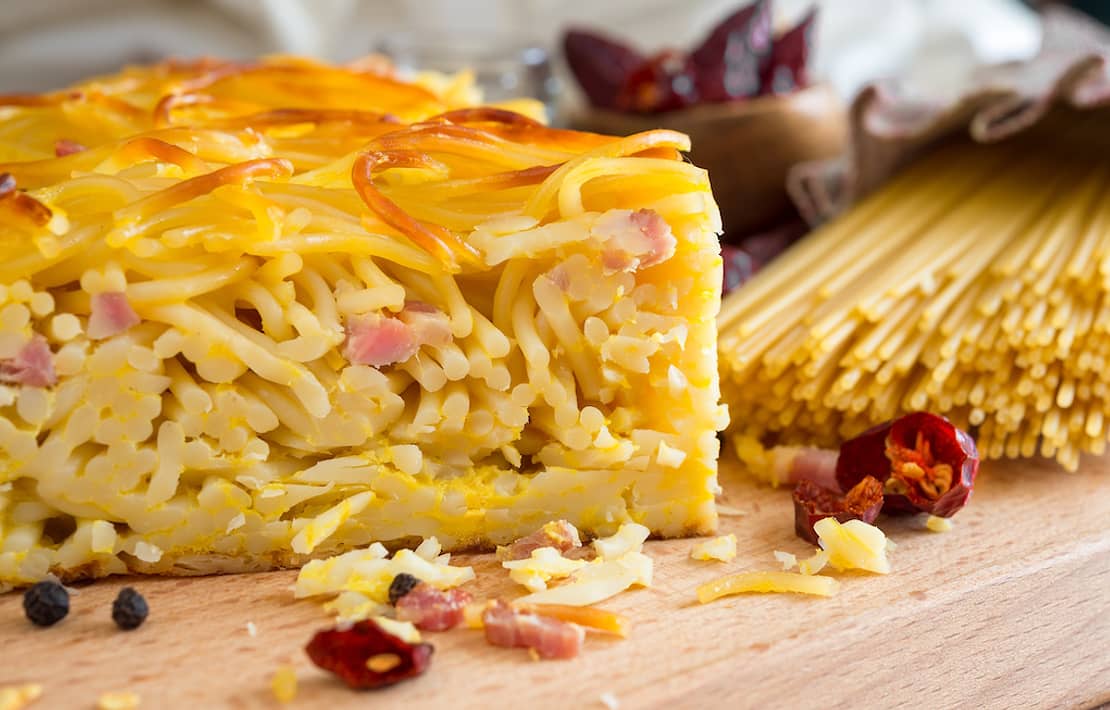 Every family in Naples has their own version of this dish, which is a sack lunch staple when traveling, taking a day trip to the beach, or packing for a picnic.
"Nothing gets wasted!"

La frittatina di pasta, or la frittatina di "maccheroni", was a way for frugal Neapolitan housewives to avoid wasting any leftover pasta (usually bucatini or spaghetti, but any shape of pasta will work). Cold, cooked pasta from the preceding day is mixed with egg and other ingredients like peas, cheese, bechamel sauce, ground meat, etc. and fried to make a simple yet filling meal.
Many rosticcerie (delis), friggitorie (fried food stands), pizzerias, and even snack bars serve la frittatina di pasta in endless variations and shapes. You can even find gourmet versions of this humble dish, but prices are generally about the same. A frittatina di pasta alla napoletana costs around €3 and is a perfect aperitivo to tide you over until Naples' rather late dinner time or as a mid-morning snack before lunch.
Il Crocchè di Patate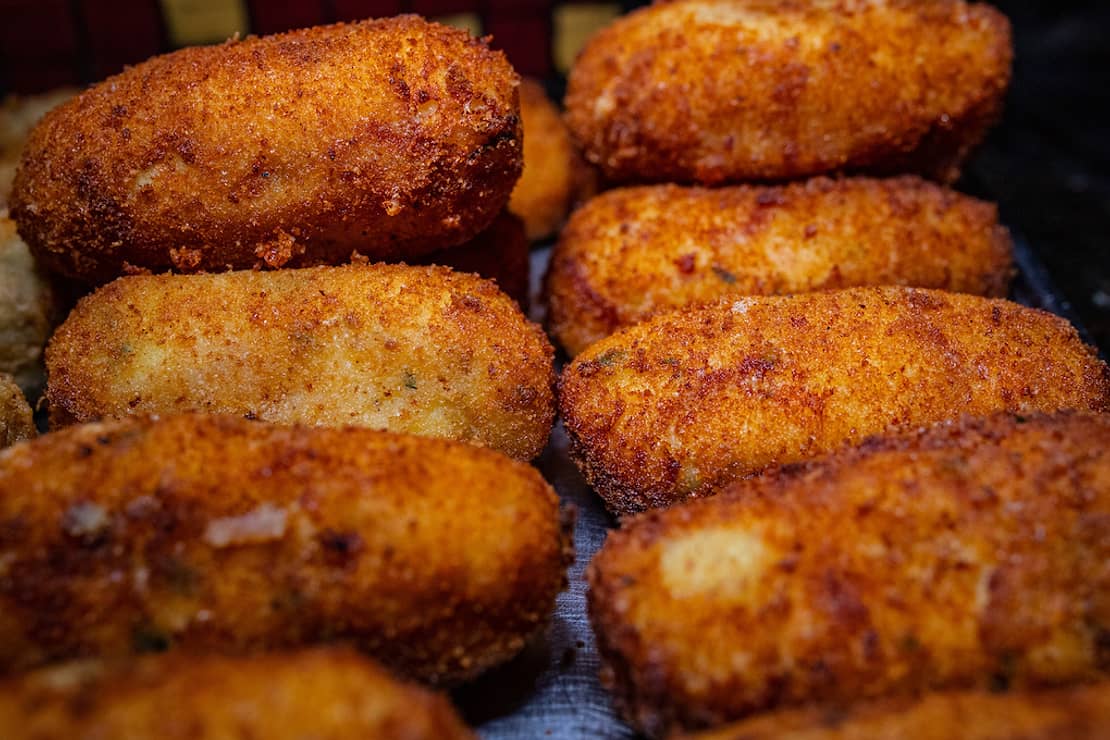 Many regional cuisines in Italy include a traditional version of potato croquettes. In Naples, they are known as crocchè or "panzarotto" and a wide range of varieties have developed over the years that run from the simple to the sophisticated. All, however, are based on the classic fried croquette made of mashed potato, usually quite large, that also includes melted cheese, parsley, ground pepper, and sometimes cubes of boiled ham or other ingredients. Crocchè are definitely one of the Neapolitan street food specialties you can buy for €5; you can usually buy one for between €1 and €3.
Zeppole and Panzarotti

The classic fried street food pairing in Naples is crocchè and zeppole di pasta cresciuta, not to be confused with the pastry of the same name that is filled with custard and black cherries. In a number of delis or fried food stands, you can order zeppole e panzarotti by price (€2, €3, etc) as a measure of the serving size. Both of these delicacies must be eaten with a generous sprinkling of salt!
La "Palla di Riso"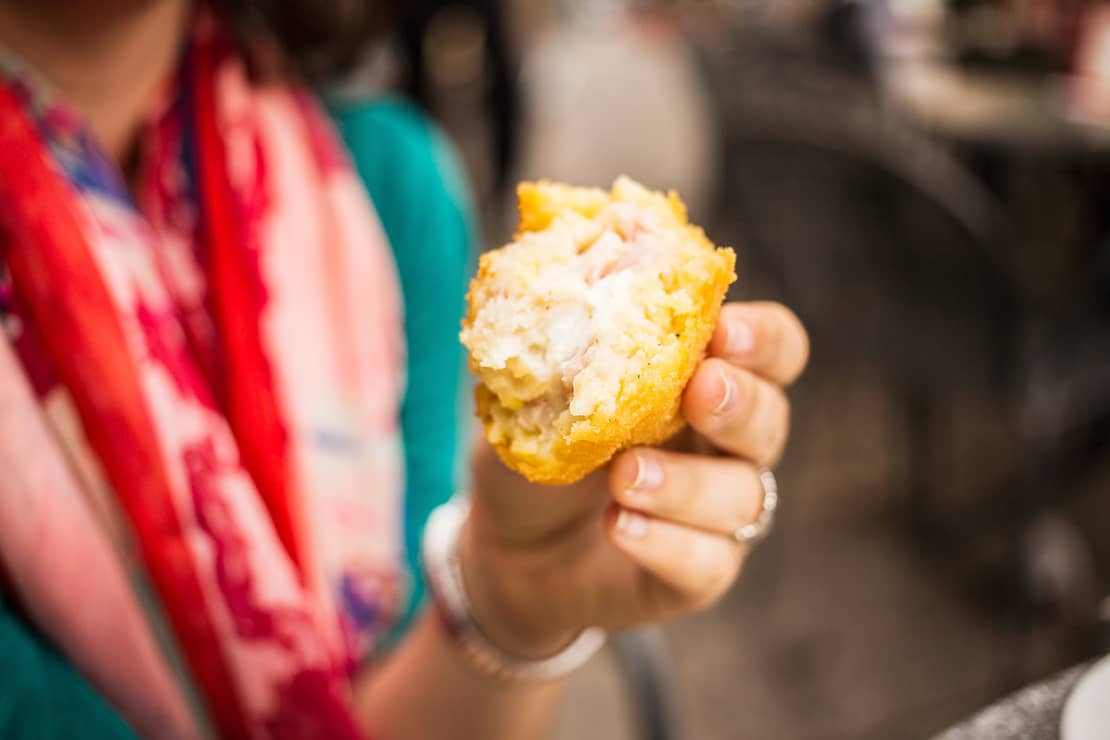 Similar to Sicily's famed arancino, la palla di riso napoletana is a ball or cone of rice that is mixed with a choice of ingredients (ragù, bechamel, peas, boiled ham, saffron, etc), breaded, and deep fried. This is one of the most popular street foods you'll find in the city's rosticcerie (delis) or friggitorie (fried food stands), but is also often served as an antipasto in local pizzerias. Generally, you'll only pay €2 or €3 for a palla di riso to go.
Il Cuoppo

If you'd like to try a variety of different fried street food in Naples without breaking the bank, opt for the mighty "cuoppo", a paper cone that is filled to brimming with all sorts of delicious treats: crocchè, frittatine, zeppole, arancini, and even battered and fried vegetables. Il cuoppo is generally munched on while strolling through the city and one of the most popular mixes is seafood: calamari, shrimp, and tiny whole fish called "di paranza". The fish version may cost a euro or two more than €5 but the classic mix is usually around €5.
La Pizza Fritta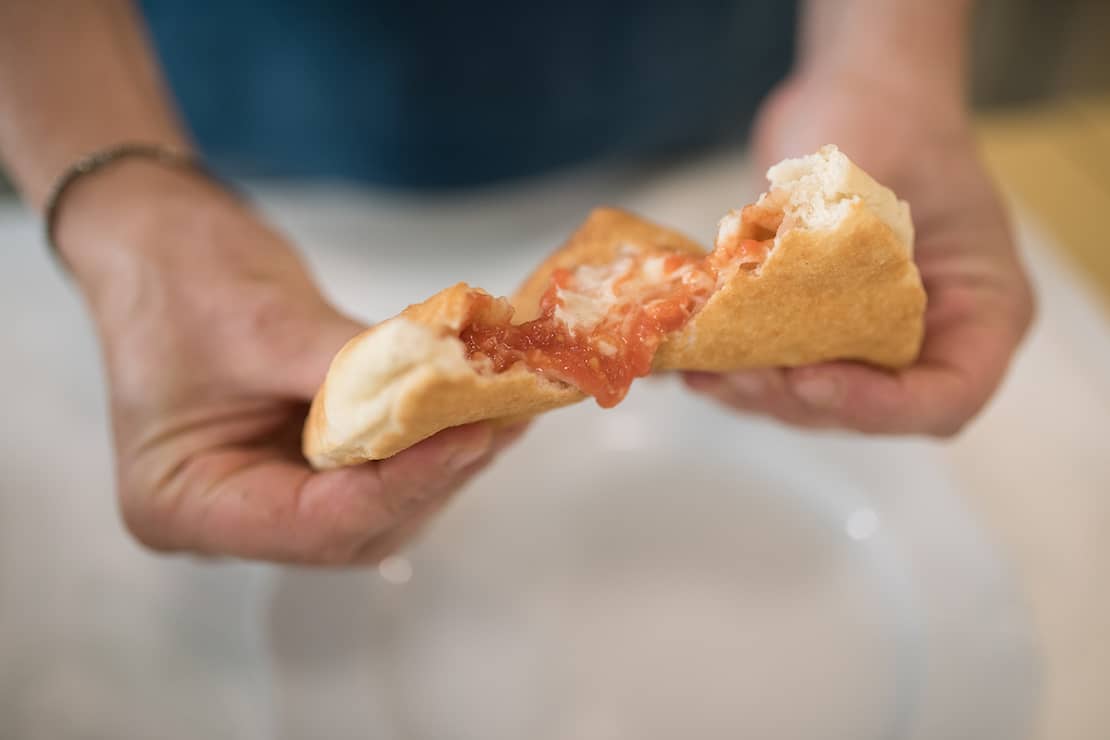 No culinary journey through Naples is complete without trying the city's "other pizza", the fried versions. There are two classic versions: Montanara (tomato, mozzarella, basil, and parmigiano) and "Calzone", a stuffed fried pizza with ricotta, salami, and ground pepper. Both versions easily make the list of top dishes in Naples under €5.
Rosticceria (Deli Food) To Suit Every Taste

If you're not in the mood for fried food, don't despair! Naples offers a wide variety of street foods that are not fried and come in under the €5 mark. We suggest sampling what locals call the "Parigina", a type of focaccia stuffed like a sandwich with boiled ham, cheese, and tomato sauce (though you can find other varieties) that is sold by the slice in "pizzetterie" and coffee/snack bars around the city. Other popular street specialties include pizza con le scarole (focaccia stuffed with sautéed escarole), taralli con sugna e pepe (a type of breadstick baked in a circle and flavored with pepper that are sold from stands along the promenade) and, during the Easter holidays, il Casatiello, a savory pie with eggs, coldcuts, and cheese.
Traditional Neapolitan Sweets
If you need to satisfy your sweet tooth, Naples has you covered! With little more than a couple of euros, you can dig into delights like the famed sfogliatella napoletana, a pastry stuffed with sweetened ricotta and candied fruit. Sample the wares at a number of specialized pastry shops across the city like Scaturchio, Pintauro, or l'Antico Forno delle Sfogliatelle Calde Fratelli Attanasio; at the latter, you will generally find a bit of a wait outside. That said, almost any respectable pastry shop in Naples turns out an acceptable sfogliatella, so you don't necessarily have to head to the most famous bakeries.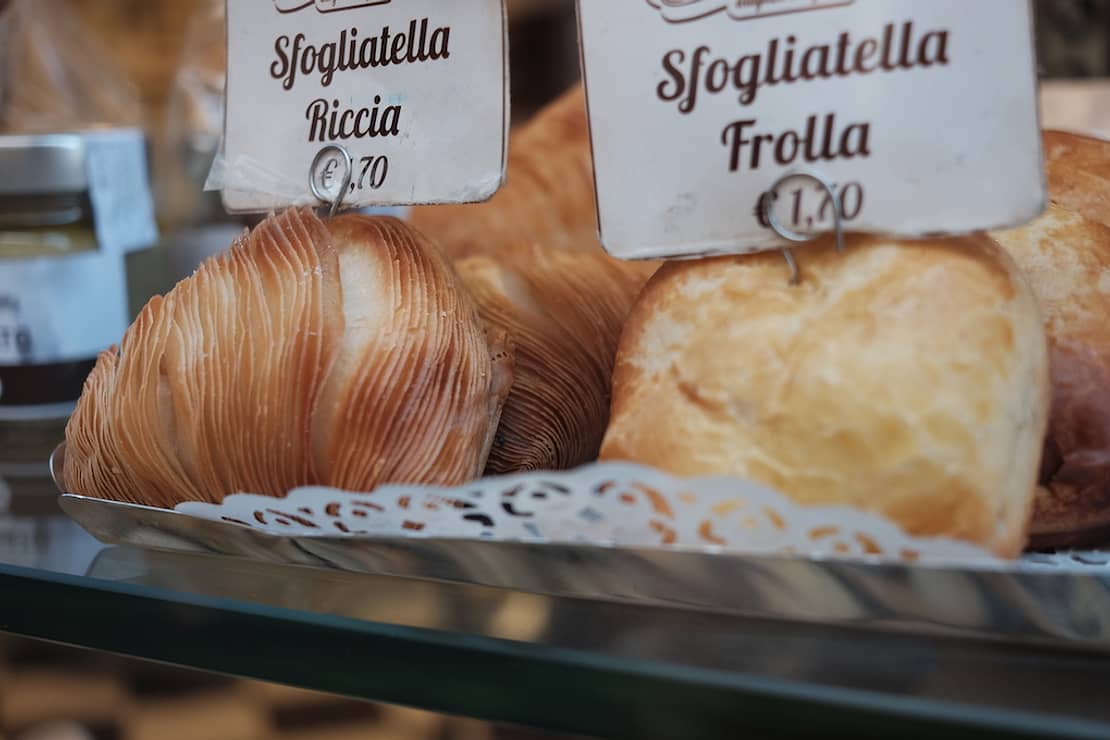 Riccia or Frolla?

There are two types of traditional sfogliatella in Naples: "riccia" is wrapped in a triangle of millefeuille pastry and is considered by many to be the most authentic version; "frolla" is wrapped in a round tart of short crust. Many Neapolitans are deeply loyal to one type or the other and will get into long, friendly discussions as to the merits and shortcomings of each. We suggest you try one of both to decide which you prefer!
The other superstar on the Neapolitan pastry scene is babà al rum, a soft, mushroom-shaped sponge cake that has been soaked in liqueur and is sometimes topped with whipped cream or chocolate. You can also indulge in a sweet treat while staying within you budget with options like Zeppole di San Giuseppe (fried or baked choux pastry with custard and black cherries traditionally enjoyed in the early spring around the Feast Day of St. Joseph) and "graffe", Naples' answer to the fried sugar donut.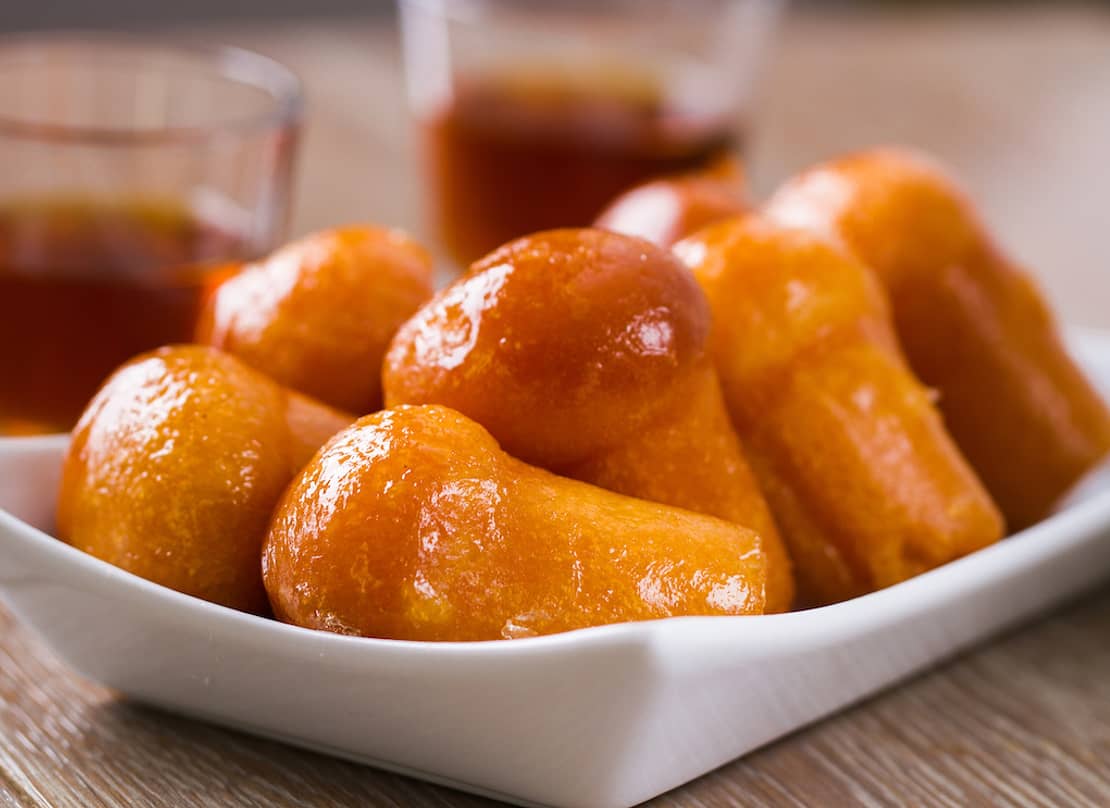 Another dessert option is a cake "in miniature" to satisfy both your taste buds and curiosity. Many pastry shops sell single-portion size Caprese (a dense cake make with chocolate, almonds, and powdered sugar) and Pastiera napoletana, a type of tart with boiled wheat berries, ricotta, and candied fruit that is traditionally part of Easter lunch.
If you'd like to stay on trend while in Naples, try the delightful Fiocchi di neve made by Poppella in the Sanità district. These pastries are all the rage in the city right now and are small, round cream-filled donuts that are made according to Poppella's top-secret recipe that no other pastry shop in Naples has been able to replicate.
A Complete Meal for €5

In Naples, you can enjoy a delicious and satisfying meal even when traveling on a strict budget! Choose your favorite "main course" (pizza a portafoglio, frittatina, crocchè, etc.) and a sweet pastry to follow. Thirsty? You'll find fountains with safe drinking water scattered across the city center.