Take advantage of your time in Naples to strike out beyond the city limits and explore some of the top sights in the surrounding area, including the volcanic crater on top of Mt. Vesuvius and the archaeological sites in Pompei and Herculaneum, the two spectacular Roman cities that buried under ash and mud when Mt. Vesuvius erupted thousands of years ago and have been preserved largely intact.
To best visit Pompeii, Herculaneum, and Mt. Vesuvius from Naples, you should dedicate at least two days to these sights. If you have limited time, however, you can fill a single day with a trip up to the peak of Mt. Vesuvius paired with a visit to one of the two archaeological sights, either Pompeii or Herculaneum.
How to Visit Pompeii, Herculaneum, and Mt. Vesuvius from Naples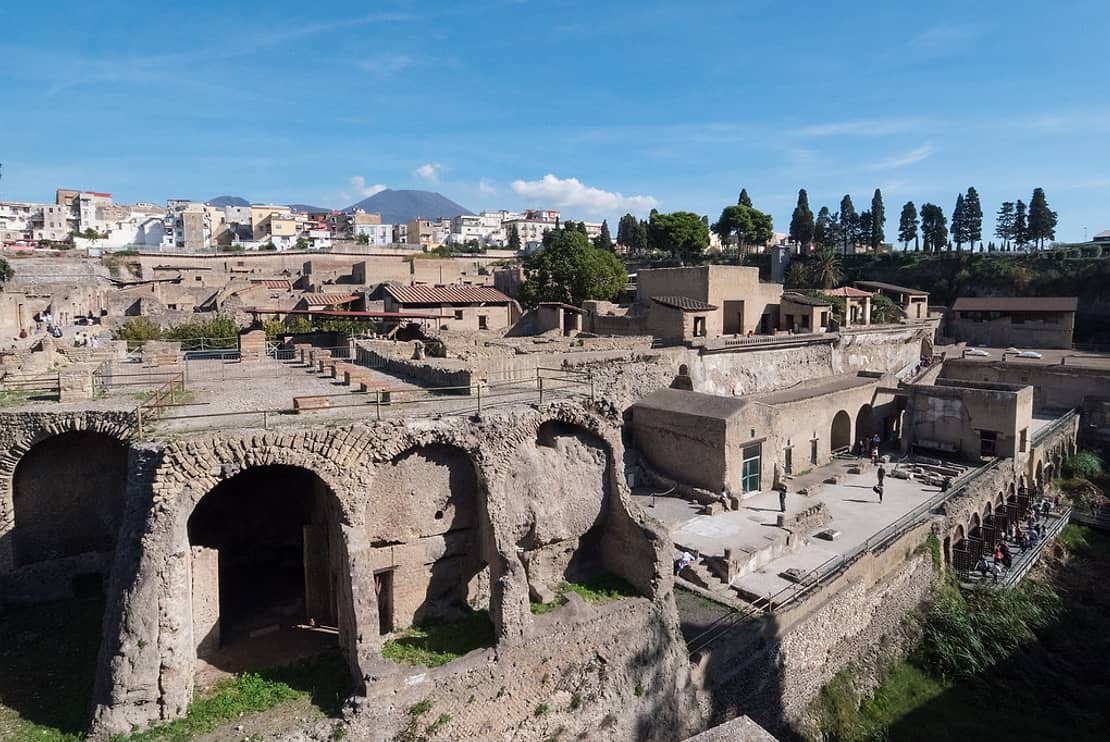 We suggest visiting Mt. Vesuvius first thing in the morning, taking a break for a lunch featuring traditional products and dishes from the slopes of Vesuvius, and dedicating the afternoon to one of the Roman cities buried by the catastrophic eruption of Mt. Vesuvius in 79 AD. You can also switch your day between morning and afternoon, especially if you book a private driver, and visit the archaeological ruins in the morning.
How to Visit Mt. Vesuvius from Naples
The peak of Mt. Vesuvius towers above the National Park of the same name, set just outside the Naples city limits. You can visit the crater with a guide or on your own, but either way there is a rather steep trail to the crater edge that takes about an hour to climb. Plan on at least 3 hours and try to avoid the hottest hours of the day in summer when the high temperatures, lack of shade, and steep climb can be less than pleasant.
How to Get to Mt. Vesuvius from Naples with Public Transportation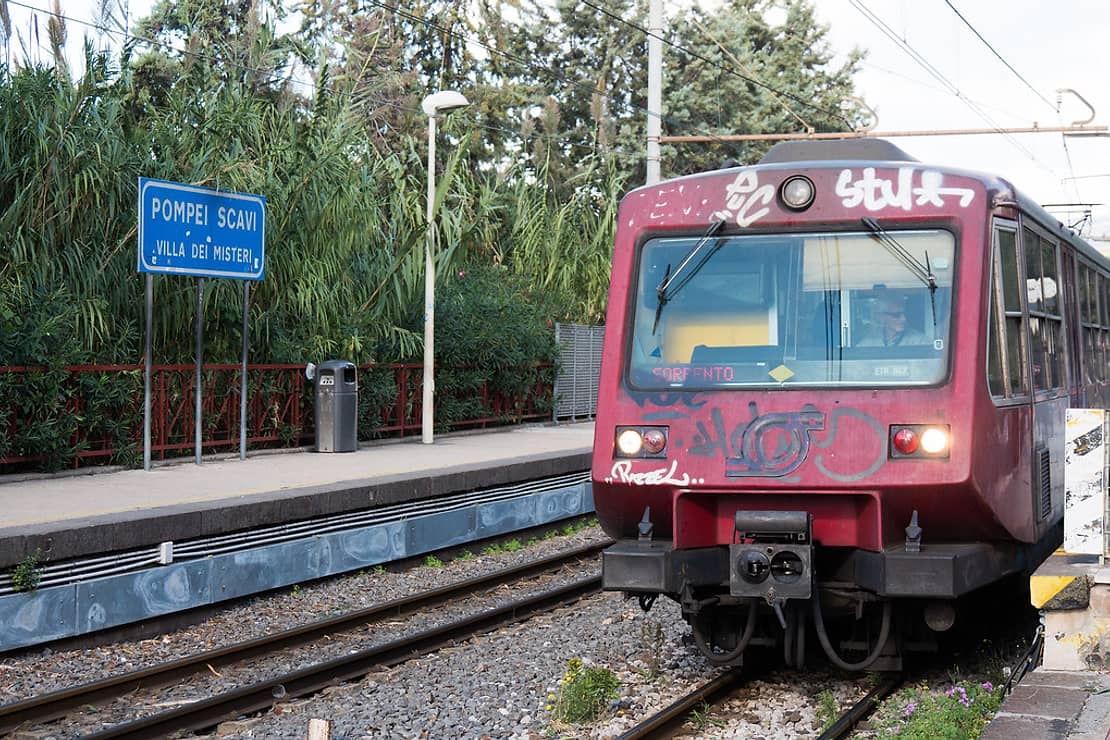 To reach Mt. Vesuvius from Naples via public transportation, first take the local Circumvesuviana train from the lower level of the Stazione Centrale train station in Piazza Garibaldi. Board the line to Sorrento and get off at the Ercolano Scavi or Pompei Villa dei Misteri stop. From here, take a taxi or one of the shuttle buses that take passengers up to the park entrance (tickets: EUR 22 round trip, including park entrance). From Pompeii, in addition to the shuttle buses, there is also a local EAV bus that departs every 50 minutes for Mt. Vesuvius.
How to Get to Mt. Vesuvius from Naples by Car
If you are driving, take the A3 highway and exit at Ercolano or Torre del Greco. Continue on along Via Cupa Monti and Via Vesuvio, following signs for the Parco Nazionale del Vesuvio. You can park at the staffed parking area located 800 meters up and continue with a shuttle bus up to an altitude of 1000, where you will find the park ticket office and the trailhead for the crater.
Once you have purchased your ticket at the park ticket office, you can either take the path to the crater's edge on your own or hire a volcanologist guide to take the Gran Cono trail that encircles the entire crater.
Information about Mt. Vesuvius

Tickets

Adults: EUR 10

Young people under the age of 25: EUR 8

Children under the age of 6 and the disabled with one assistant

Opening Hours

January, February, November December: 9 a.m. to 3 p.m.

March and October: 9 a.m. to 4 p.m.

April, May, June, September: 9 a.m. to 5 p.m.

July and August: 9 a.m. to 6 p.m.

The trail to the crater's edge is open daily all year round, but may occasionally close for adverse weather conditions or unsafe conditions.

The trail is not accessible to those with limited mobility.
A Traditional Lunch Near Vesuvius
After visiting Mt. Vesuvius and before heading to Pompeii or Herculaneum, we suggest you stop for lunch on the slopes of the volcano, known for centuries for its fertile farmland and mild climate.
If you are a wine lover, you can visit one of the family-run wineries set at the foot of the volcano. La Cantina del Vesuvio, for example, is set virtually halfway between the mountain peak and the ruins of Pompeii and offers guided visits of the winery, tastings, and lunch. If you don't have a car, the winery also offers shuttle service to and from the estate.
How to Visit Pompeii or Herculaneum from Naples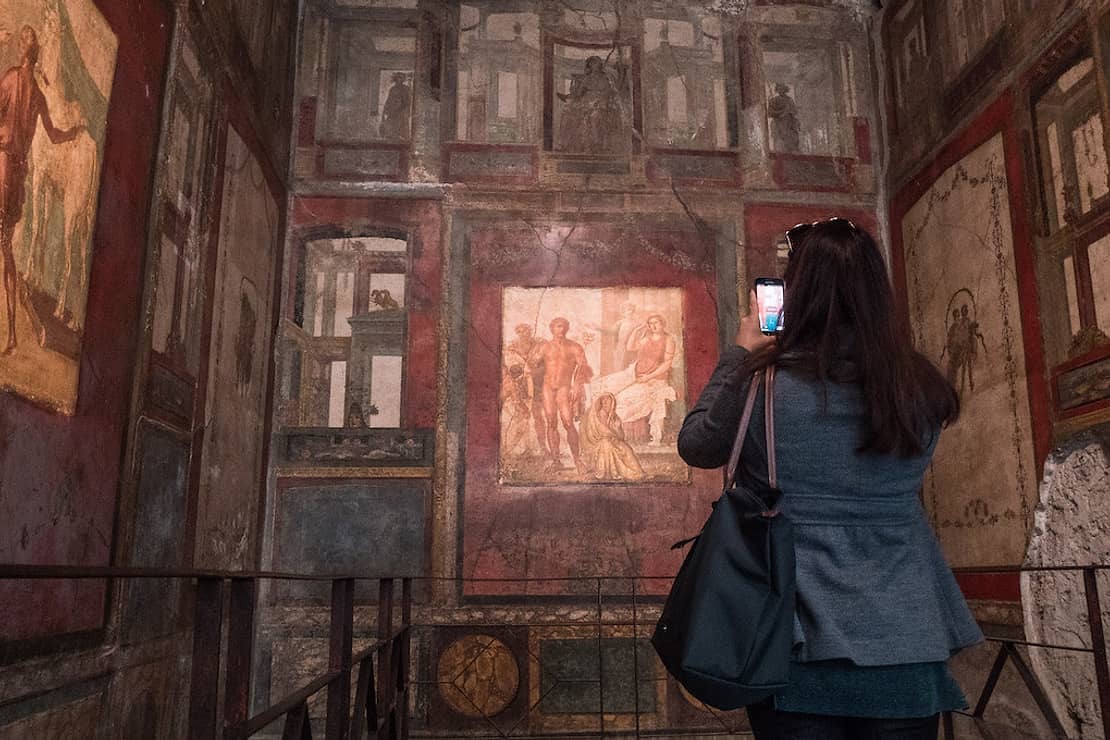 After your hike to the Mt. Vesuvius crater and a traditional winery lunch, you'll be ready to continue on to one of the most famous archaeological sites in the world: the ruins of Pompeii or Herculaneum. You may be tempted to try to fit in a visit to both in one afternoon, but the ruins are vast and visiting can be tiring, especially during the hottest days of summer. Unless you are particularly passionate about ancient history, we suggest you choose one of the two sites to visit and not try to take on both in a single day.
Consider that you will need at least 3 to 4 hours to visit the top sights in Pompeii.
Should I visit Pompeii or Herculaneum?

The ruins of Pompeii are by far the larger and more famous site, but can also be more crowded. Herculaneum is home to equally spectacular ruins, but is smaller and less crowded so you can see more in less time. Herculaneum is also closer to downtown Naples.

Pompeii offers a route suitable for those with limited mobility that begins at the Piazza Anfiteatro entrance and covers a large portion of the ruins.

Regardless of whether you choose Pompeii or Herculaneum, we suggest you purchase skip-the-line tickets in advance to avoid a delay at the entrance.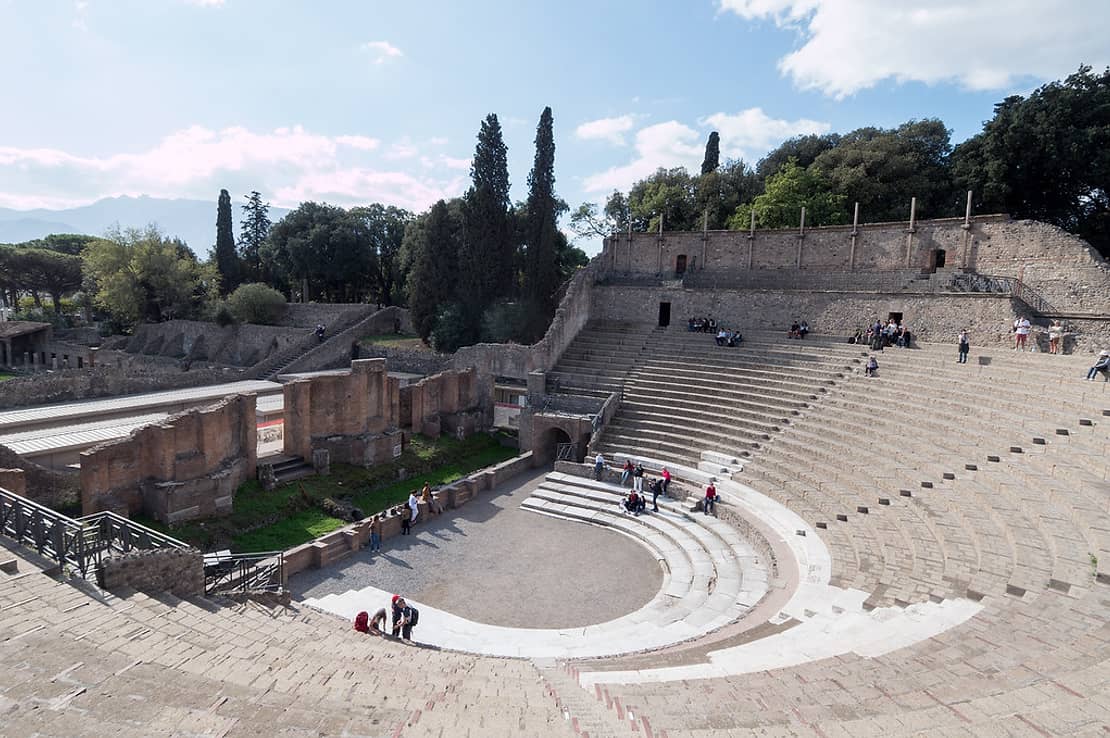 You can reach Pompeii or Herculaneum with your car if you drove to Mt. Vesuvius, or with a shuttle and Circumvesuviana train. Get off at Pompei - Villa dei Misteri (the entrance to the archaeological park is located directly opposite the station) or "'Ercolano Scavi"' (follow the indications for Herculaneum, about a 10-minute walk from the station). If you plan on stopping for lunch at Cantina del Vesuvio or another local winery, you can request a transfer to your next destination in advance.
Here are our insider tips to visiting Pompeii and Herculaneum:

Visit with a guide when possible: you can book a guide in advance or hire an authorized guide at the ticket window.

Wear sturdy shoes and clothing suitable to the outdoors, and bring plenty of water and sunblock in the summer.

Purchase skip-the-line tickets to avoid a long wait at the entrance.
Buy skip-the-line tickets to Pompeii
Buy skip-the-line tickets to Herculaneum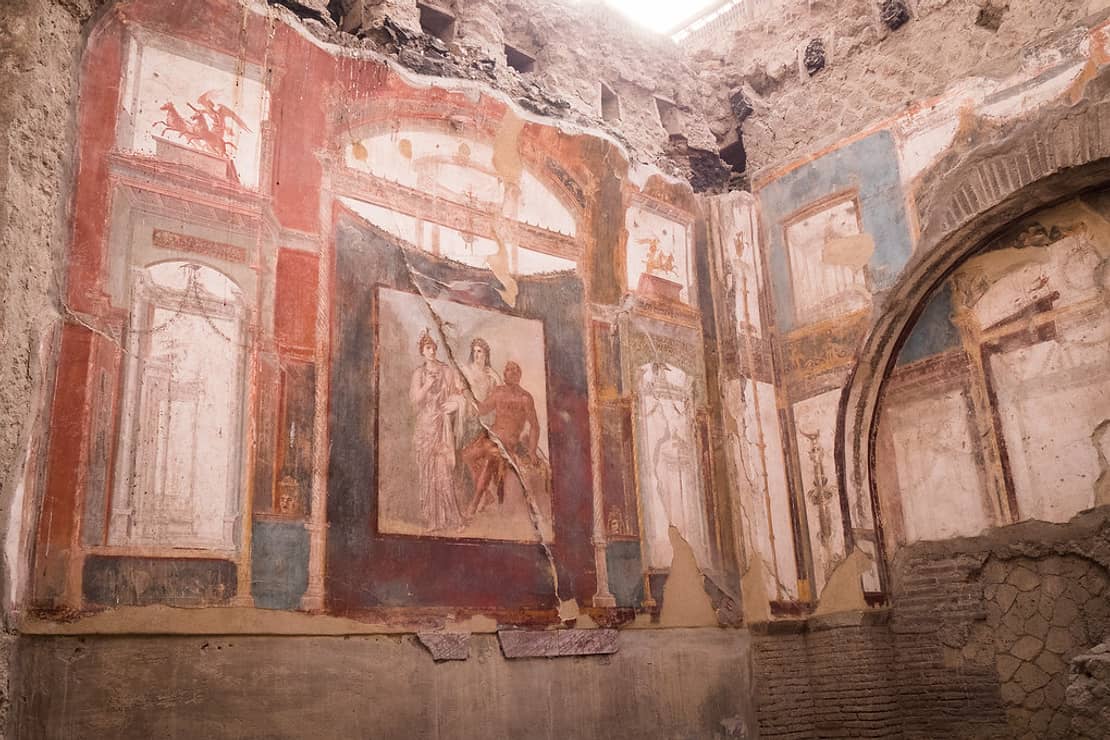 Opening Hours and Ticket Prices for Pompeii and Herculaneum

Opening Hours for Pompeii and Herculaneum:

April through October: 9 a.m. to 7:30 p.m. (last entrance 6 p.m.)

November through March: 9 a.m. to 5 p.m. (last entrance 3:30 p.m.)

Saturday and Sunday: opening at 8:30 a.m.

Closed: 1 January, 1 May, 25 December

Tickets:

Pompeii: full-price ticket EUR 16; reduced ticket EUR 9 (students from 18 to 24 and teachers). Free entrance up to 18.

Herculaneum: full-price ticket EUR 13; reduced ticket EUR 5.50 (students from 18 to 24 and teachers). Free entrance up to 18.
Group Tours of Mt. Vesuvius, Pompeii, and Herculaneum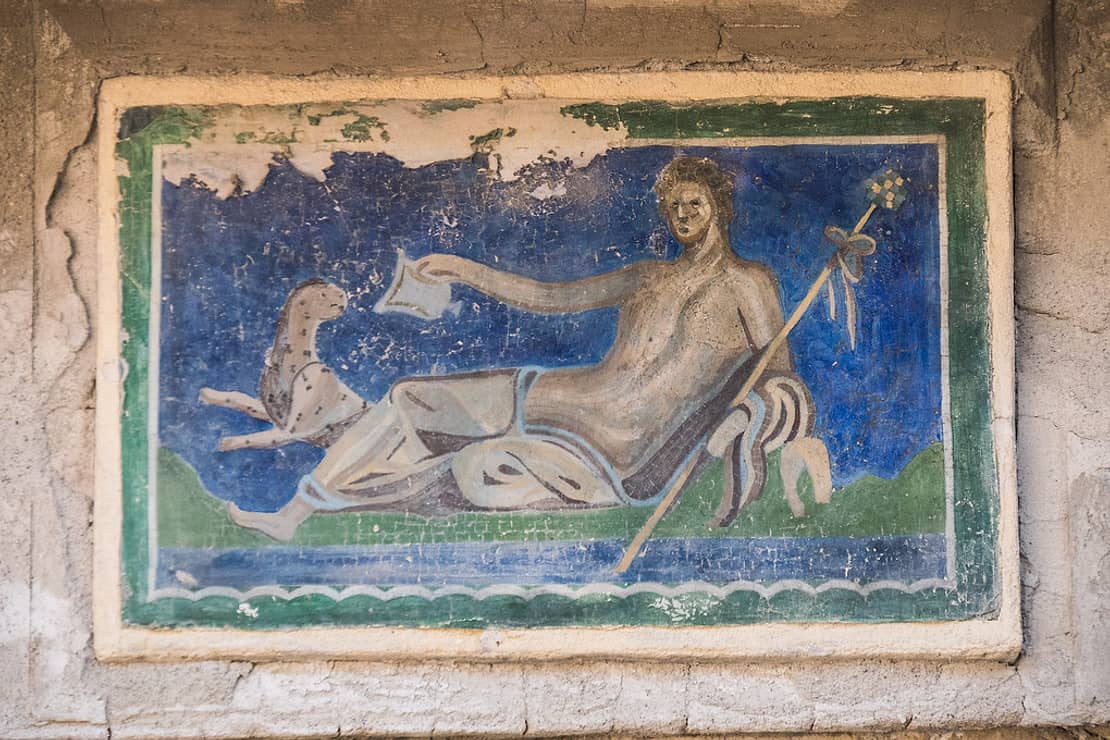 An easy way to visit Mt. Vesuvius along with the archaeological sites of Pompeii and Herculaneum is by joining a group tour from Naples.
These small-group, all-inclusive tours offer transport via comfortable, air-conditioned vehicles, a guide, and usually skip-the-line entrance to both the national park and archaeological areas. You can also choose a tour that includes a stop for lunch featuring traditional products from the slopes of Mt. Vesuvius.
If you'd rather not take on Neapolitan traffic, deal with public transport, or waste time with delays and lines, a group tour is a hassle-free option that offers excellent convenience for the price.
Private Tours of Mt. Vesuvius, Pompeii, and Herculaneum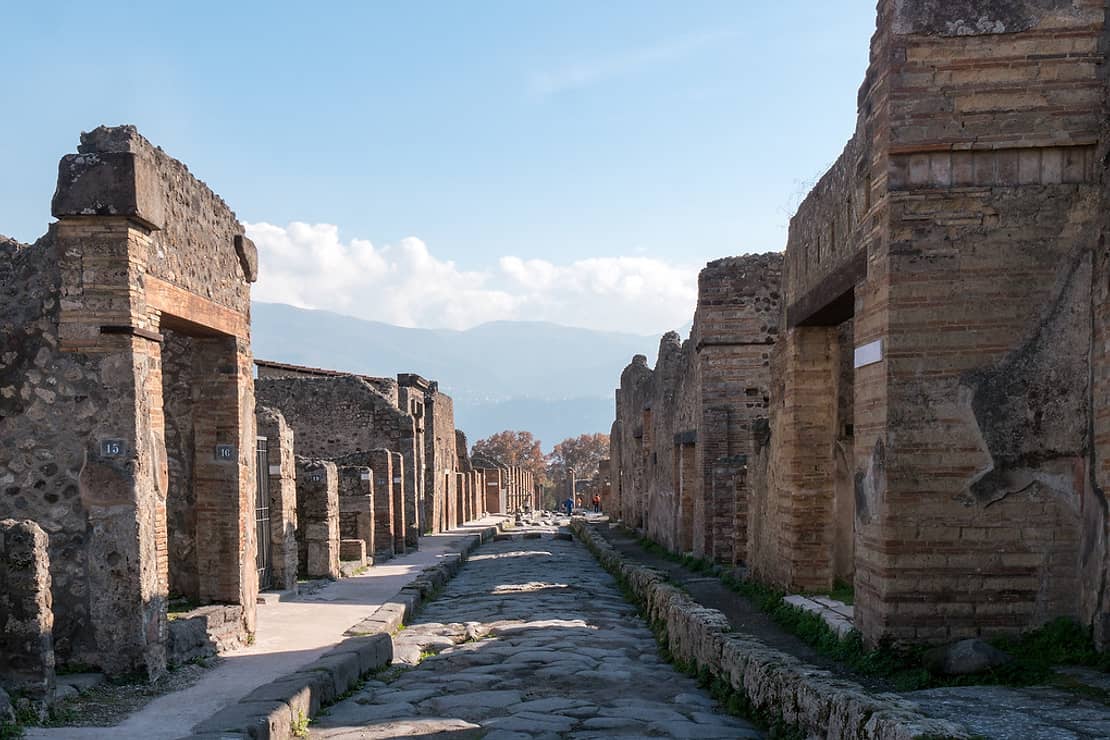 For maximum flexibility and freedom, book a private driver for the day who can take you to any and all of these three blockbuster sights to visit at your pace and on your schedule. The benefit of a private driver is that your day is completely customizable and you don't have to stick to the schedule of a group tour or train and bus timetables.
Private transfer services to Mt. Vesuvius, Pompeii, and Herculaneum are more expensive than group tours or visiting on your own, but you if you are traveling with a group of friends or family, the cost can be quite reasonable.
For Those Who Want It All

If you really can't choose between visiting Pompeii or Herculaneum, a private tour is an excellent solution to fit both sites in a single day. You can depart from Naples in the morning and stop by the ruins of Pompeii for a quick visit, then move on to Herculaneum for another brief tour. Afterward, you can end your day by climbing up to the crater's edge on Mt. Vesuvius to take in the view.