Naples is a great city to get some serious shopping in! For centuries this seaside metropolis has been home to artisan craftsmen and traditional workshops, where you can find one-of-a-kind treasures at affordable prices and see how a number of specialty items are still made using traditional techniques passed down through the generations. In addition, this food-centric city is a great place to pick up excellent local specialties from coffee to pasta. If you're looking for a unique souvenir for yourself or gifts for loved ones back home, you'll have an endless selection at bargain prices in Naples.
What are the best souvenirs to buy in Naples? Here is a complete shopping list for the top local crafts and gourmet treats to search out in the city!
1. Ceramics
Naples and the surrounding region of Campania have been known for their local ceramic production for centuries. If you love handpainted majolica ceramics, you can choose from an endless variety of techniques and styles, from the elegant porcelain from Capodimonte to the more rustic majolica from Vietri Sul Mare. Choose from traditional designs or more contemporary and minimalist motifs. Whatever your personal preference, you'll find a unique ceramic, porcelain, or terracotta piece to remind you of Bella Napoli.
Among the most popular items are painted tiles, vases and trays, small statues, or ceramic wall art. Choose from classic Neapolitan ceramic styles that include geometric and floral motifs, bright lemons from the Amalfi Coast, or painted land and seascapes. Those who prefer a more modern look can choose pieces from contemporary artists who focus on innovative and contemporary designs. Historic Pulcinella masks, busts of the city's patron saint San Gennaro, and iconic Neapolitan actor and entertainer Totò are also beloved subjects in traditional Neapolitan ceramics.
A Touch of Naples at Home

To add a dash of Neapolitan style to your home, you can also choose handpainted ceramic tiles or borders, called "riggiole" in Naples and on the Amalfi Coast, arranging for them to shipped directly to your home address.
2. Coral and Cameos
Another traditional artisan specialty that is among the most unique souvenirs from Naples are jewelry and other decorative items made from the jewels of the Bay of Naples: coral and mother of pearl in a variety of colors. Neither minerals or stones, these two precious materials are the skeletons of marine organisms that live on the sea bed in the Bay of Naples. Though red coral is the most well-known, you can also find other colors from salmon pink to orange.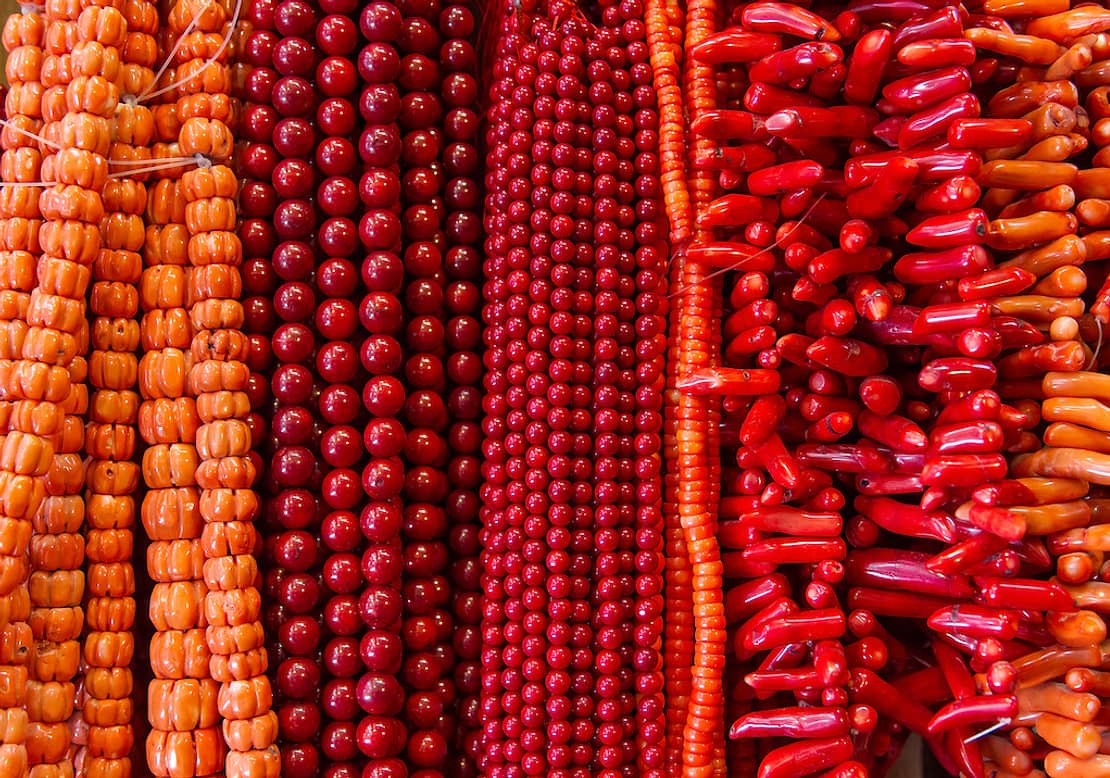 Coral is used to make all types of jewelry, including necklaces, earrings, bracelets, rings, and pins. You can also find decorative items like small figurines and other objéts at prices to fit any budget from a few euro up to thousands...depending on the quality of the coral, technique, and size of the item.
The Legend of Coral

According to the Roman poet Ovid, red coral was created from the blood shed by Medusa, one of the three Gorgon deities, when she was beheaded by Perseus. For the ancient Romans, coral had miraculous protective powers, especially for small children. Indeed, Romans would tie a small piece of coral around the neck of newborns and Neapolitan babies still today are often given small coral bracelets or pendants to wear. Until the Middle Ages, coral powder was used in salves and medicines, as well.
An excellent area to purchase coral and other kinds of jewelry is the Borgo Orefici di Napoli, a historic quarter of Naples near the seaside between Via Marina and the "Rettifilo", officially Corso Umberto I. From the main Piazzetta Orefici, you can browse along a number of streets and narrow lanes that have been lined with goldsmiths, silversmiths, and artisan jewelry workshops since the Middle Ages. The seaside town of Torre del Greco at the foot of Mt. Vesuvius is also known for its local coral production and is thick with historic workshops and boutiques selling coral objects of all kinds.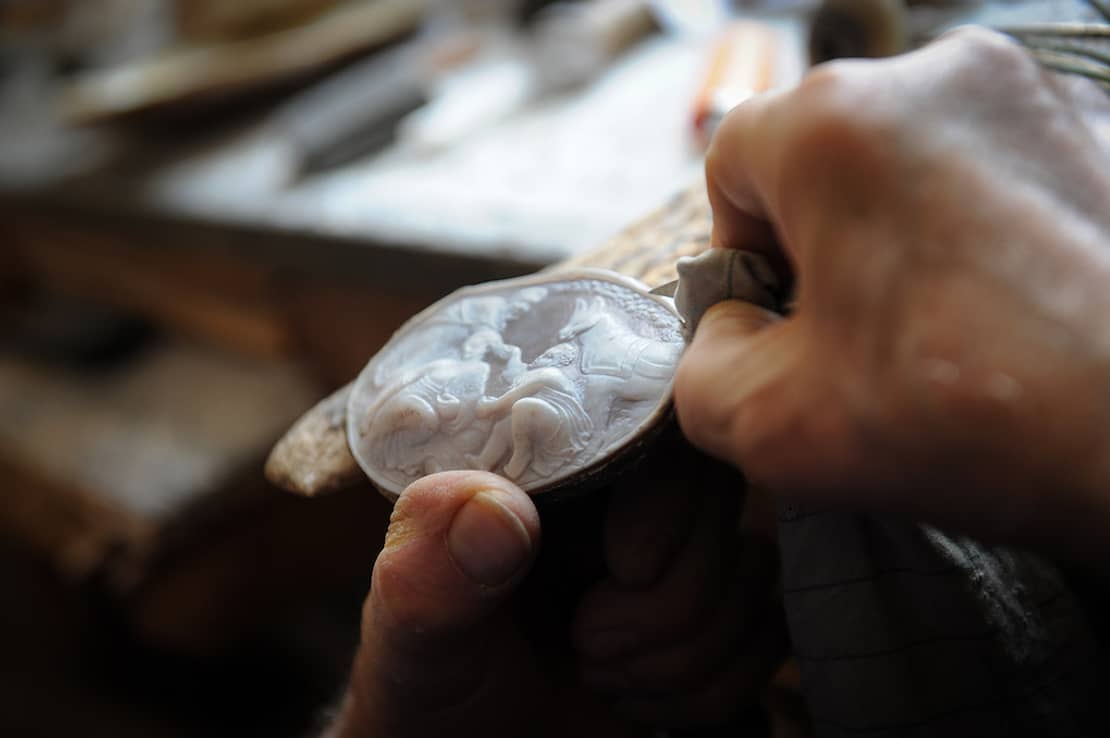 Miniature Works of Art

Another unique type of jewelry or decorative item made from coral, mother of pearl, or conch shells is cameos! Made with a complex carving technique involving years of training and lots of patience, these intricate works of art usually depict scenes and characters from classic mythology and the most popular form are elegant pins.
3. Wine, Liqueurs, and Spirits
For those who are looking for a souvenir in a bottle, opt for a local wine! The mild climate and volcanic soil around the Bay of Naples are ideal for nurturing vineyards, and wine has been produced here since the ancient Romans first arrived.
Historic Neapolitan Wines

If you'd like to try the most storied wines in southern Italy, bring back a few bottles of Lacryma Christi del Vesuvio, Pèr'e palummo dei Campi Flegrei, or Bianculella di Ischia. Once home, you can uncork a bit of history with one of these varieties that have been enjoyed for centuries.
For something both stronger and more refreshing to end your meal, try a classic bottle of Limoncello made with heirloom lemons from Amalfi or Sorrento; you can also find fruit-infused local liqueurs like wild strawberry or mandarin orange. The most traditional digestive liqueur in Naples is probably Nocillo (or Nocino) made with green walnuts each June.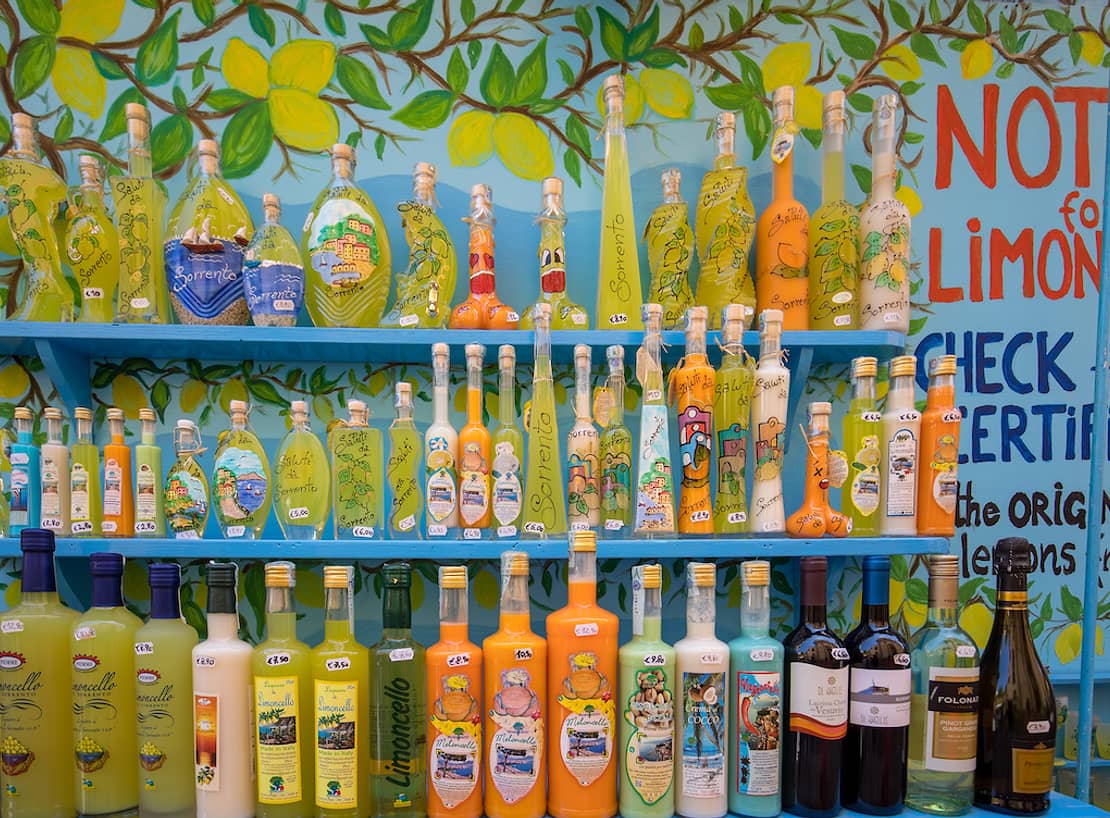 A Sweet Glass of Strega

One of the most beloved liqueurs from the southern city of Benevento is Strega, made from a secret recipe of over 70 herbs and spices. Generally, this strong but sweet liqueur is sipped at the end of a meal alongside a dessert or added to a tiny cup of espresso. There are also a number of traditional cakes and tortes that call for Strega in the recipe!
4. Ties
One of the most prestigious arts in Naples is custom tailoring, which includes classic suits, shirts, and ties for men but also specialty items like wedding gowns, hats, and knits.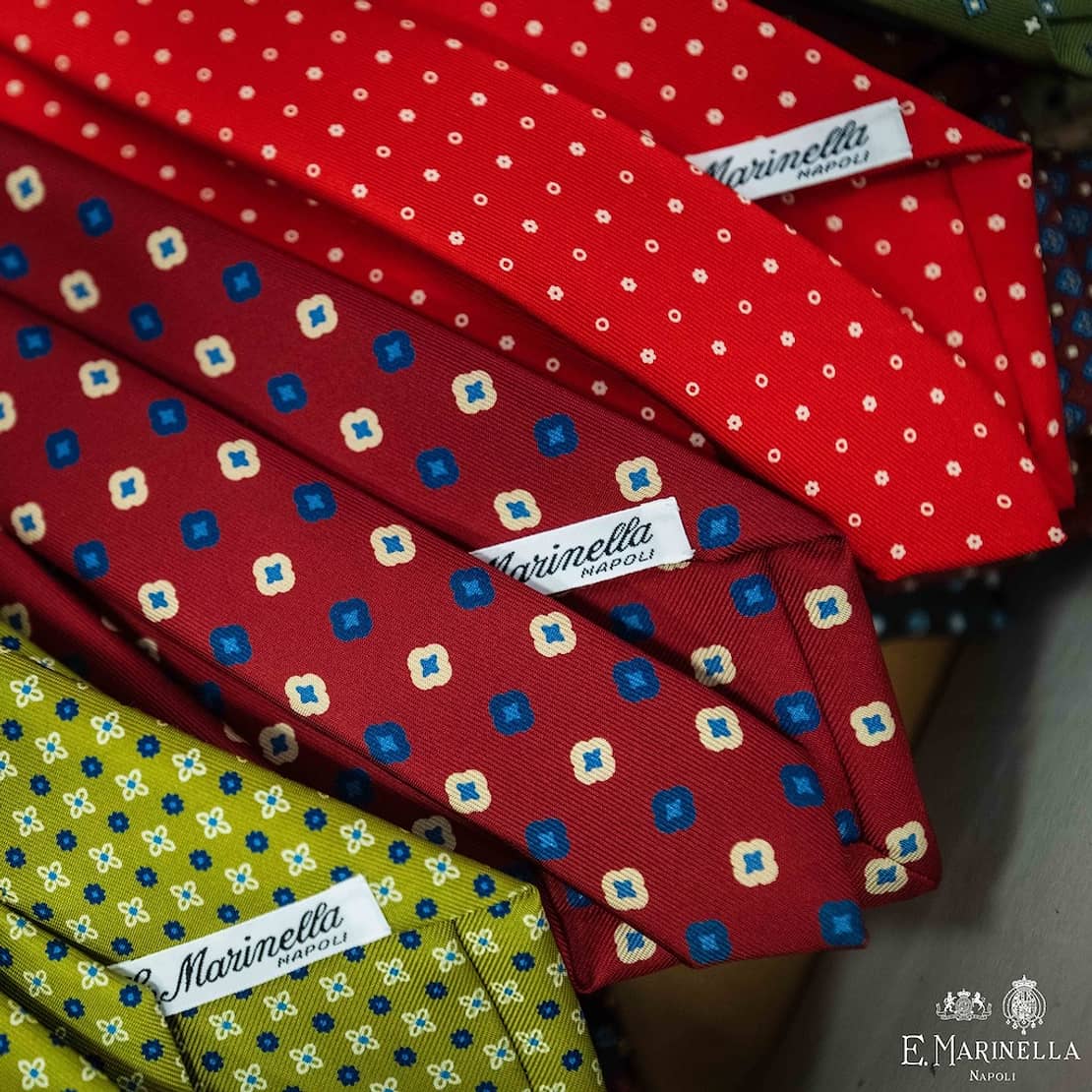 A handmade silk tie from Naples is a uniquely elegant souvenir or gift, both timeless and easy to pack. You'll find a number of landmark shops around Naples that carry a vast selection of high-end ties in pure silk, first among them the historic Marinella boutique. You can choose between classic and trendy colors and prints, and you'll find that the quality of both the craftsmanship and material will make it last for decades.
5. Nativity Scenes
The most traditional of all Neapolitan crafts is the handmade nativity scene, an art form that dates back to the 1700s and that dominates holiday décor in all of southern Italy. Once limited to a small manger and the basic figurines, Neapolitan nativity scenes are now huge, intricate constructions of entire villages populated with dozens of figurines representing both the traditional nativity characters - the Holy Family, shepherds, angels - but also contemporary celebrities, politicians, and performers from both Naples and across the globe.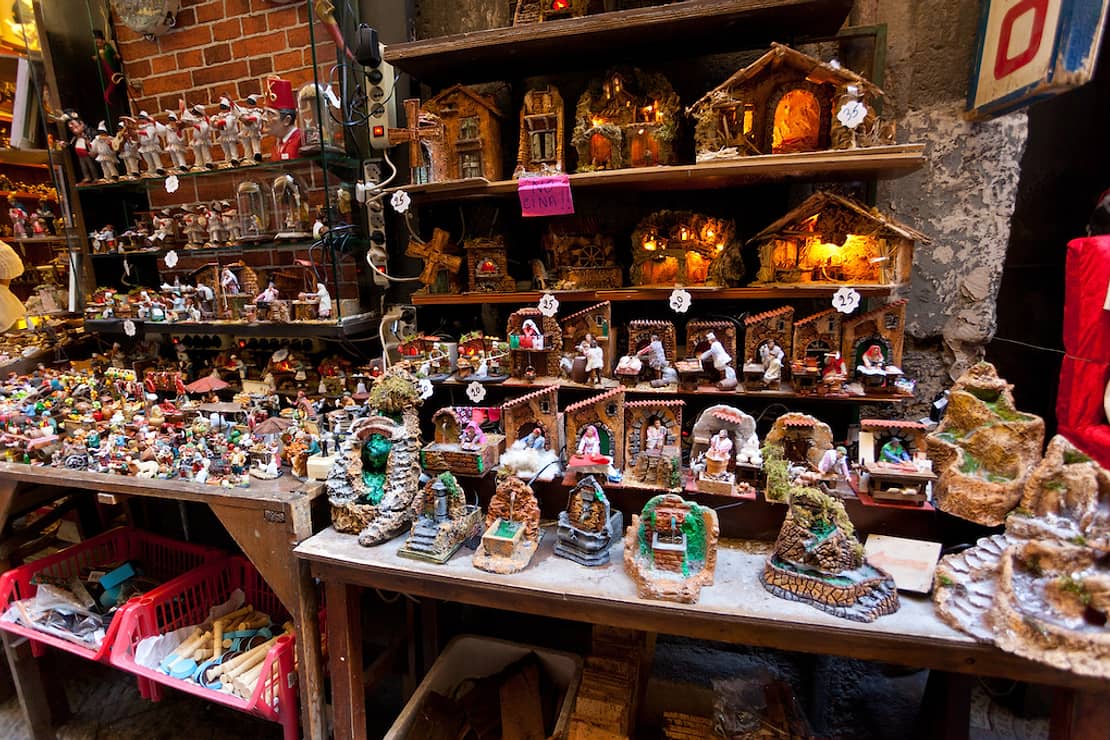 Christmas Street

The heart and soul of Naples' nativity scene production is on Vicolo di San Gregorio Armeno, a narrow lane set in the historic center of the city that is crowded on both sides with dozens of shops and stalls selling handmade nativity scene figurines, model houses, and props. You'll find a mix of quality between carefully crafted artisan works and more commercial, mass-produced souvenirs, so keep a sharp eye. The shops are open all year round, so no need to wait until the holiday season to browse...in fact, during the weeks leading up to Christmas, Vicolo di San Gregorio Armeno often becomes so overrun with shoppers that it's hard to even walk down the street. We suggest visiting far before December to avoid the worst of the melee.
You can find nativity scenes in all sizes and price ranges on sale in Naples, and can even request a custom-made set or figurine. No need to spring for an entire set, however...you can also purchase single figurines or other props in a range of sizes.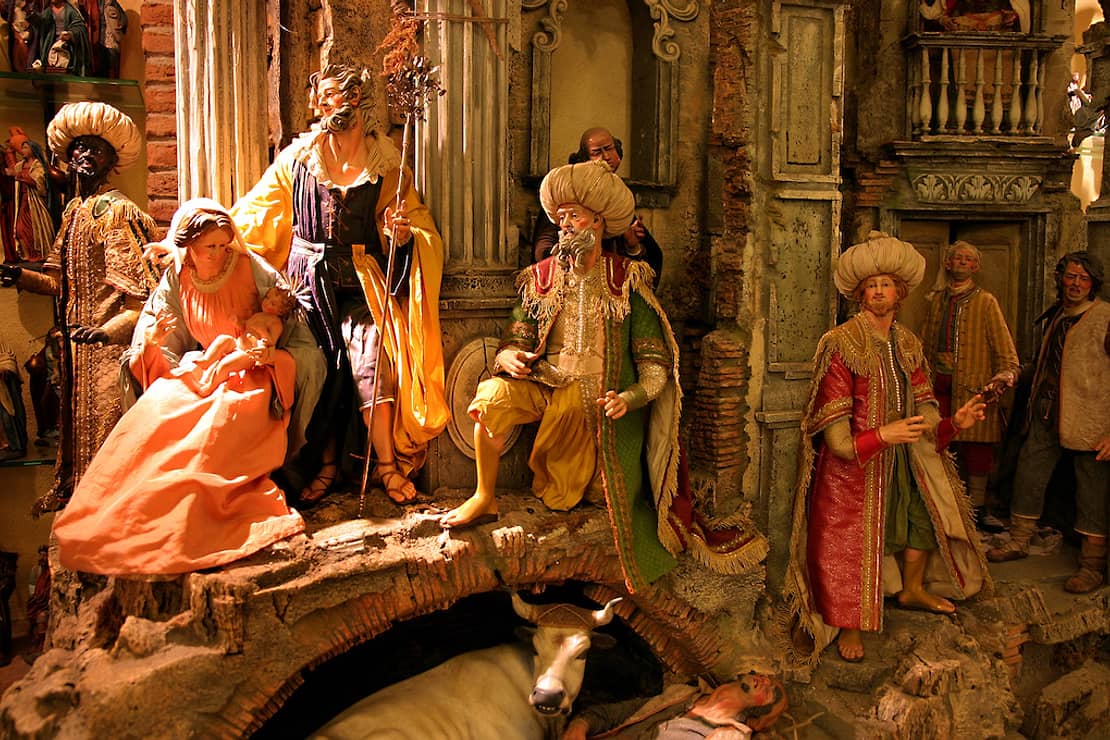 Benino and Friends

The traditional Neapolitan nativity scene usually features a smattering of "standard" figurines, some of which have hidden meanings. One of the most beloved in the napping shepherd boy, known as Benino or Benito, but you'll also often find a fisherman with a tangled net, a wine seller who symbolizes the eucharist with wine and bread in his hands, the drunken friar, and a different type of merchant representing each month of the year.
6. Chocolate and Other Sweets
You can satisfy your sweet tooth in Naples in a number of ways, from traditional pastries to local chocolate. We suggest sampling babà al rum: you won't be able to take it home with you, but have the pastry shop wrap it up on a tray with colored paper and ribbon (a type of presentation known as "boccaccio" in Naples) to enjoy later that same day. You can also add a sfogliatella, either frolla or riccia to your tray, both very popular in Naples.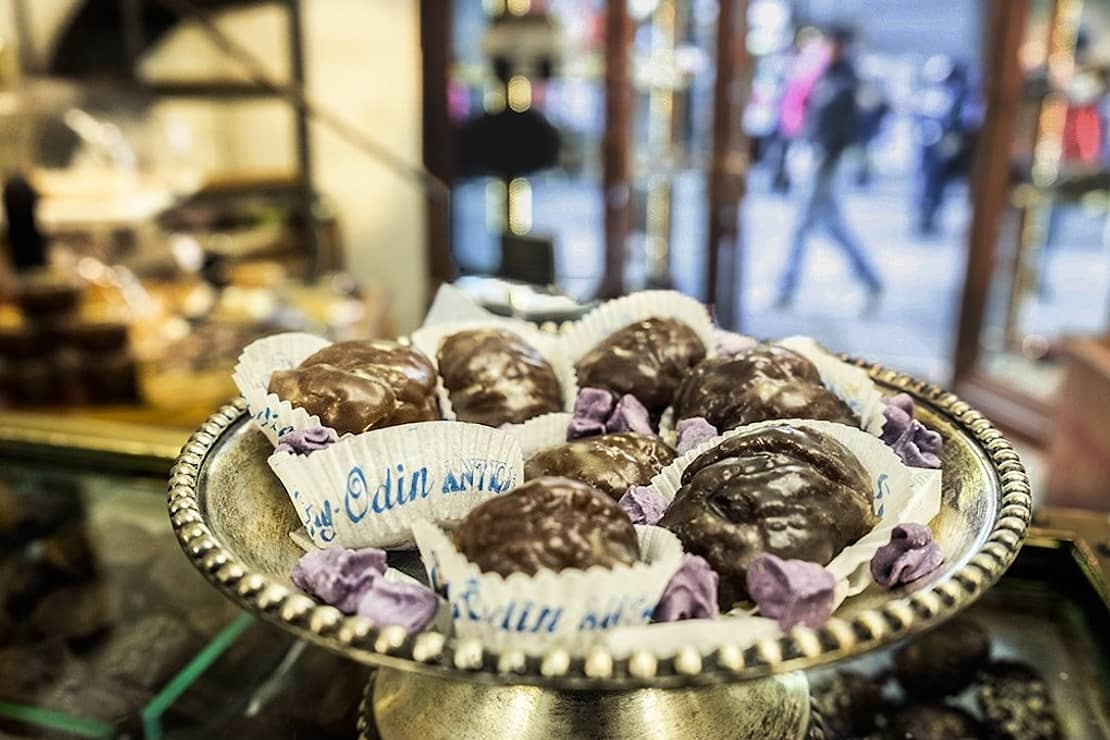 For a sweet that can actually make it home as a souvenir, spring for some artisan chocolates. These jewel-like delights are sold in a number of storied chocolate shops spread across the city, and you can choose between a pre-packed box or mix and match your favorites from the glass counter. Gay Odin, Antica Cioccolateria, and Oliva are considered the three best in the city.
A Chocolate for Everyone

Neapolitan chocolates are made with high-quality ingredients from Italy and across the globe, including hazelnuts, coffee, chili pepper, liqueurs, and spices. You'll find a variety to satisfy any preference, including milk, dark, and white coatings!
7. Lucky Horns
You don't have to be superstitious to delight in one of the most iconic symbols of Naples' tradition and lore: the lucky horn, a charm known locally as the "curniciello". This traditional amulet is in the shape of a hot pepper (or "corno" in Italian) and it is believed to ward off the evil eye. Its slightly phallic shape was considered in ancient times to be a symbol of strength and prosperity, which is how the "lucky horn" probably originated.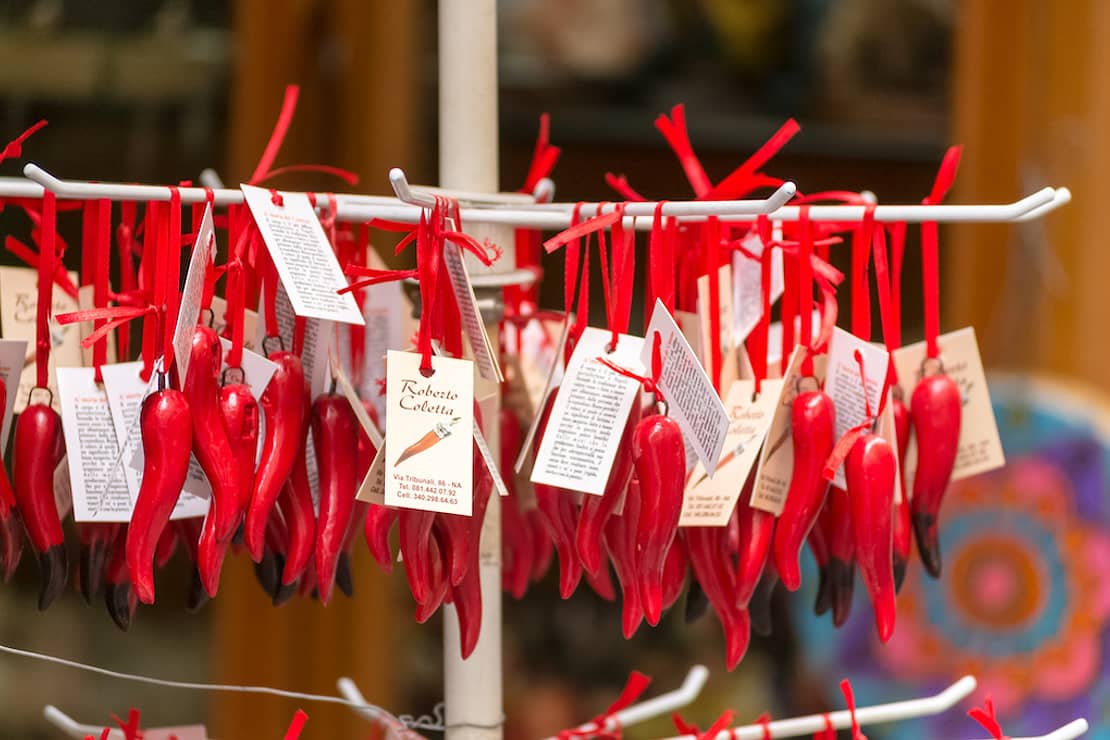 The Symbolism of the Curniciello

For a "lucky horn" to be effective, traditionally it must include a series of specific characteristics: it must be red, twisted, pointed, and - most importantly - must be received as a gift. If you decide that you would like a "curniciello" charm as a souvenir from Naples, make sure you ask someone else to give it you as a gift! Otherwise, you can purchase one yourself but must gift it to someone else once you are home...otherwise, it loses all its talismanic power.
While strolling through the streets of Naples, you'll see traditional curnicielli on sale virtually everywhere. The cheapest are made from plastic, bus we suggest you browse the artisan workshops and jewelry stores in the historic center to choose a handmade version in ceramic or fine red coral.
8. Pasta and Chili Pepper
You can't bring back a traditional Neapolitan pizza, but you can fill your suitcases with high-quality artisan pasta from southern Italy!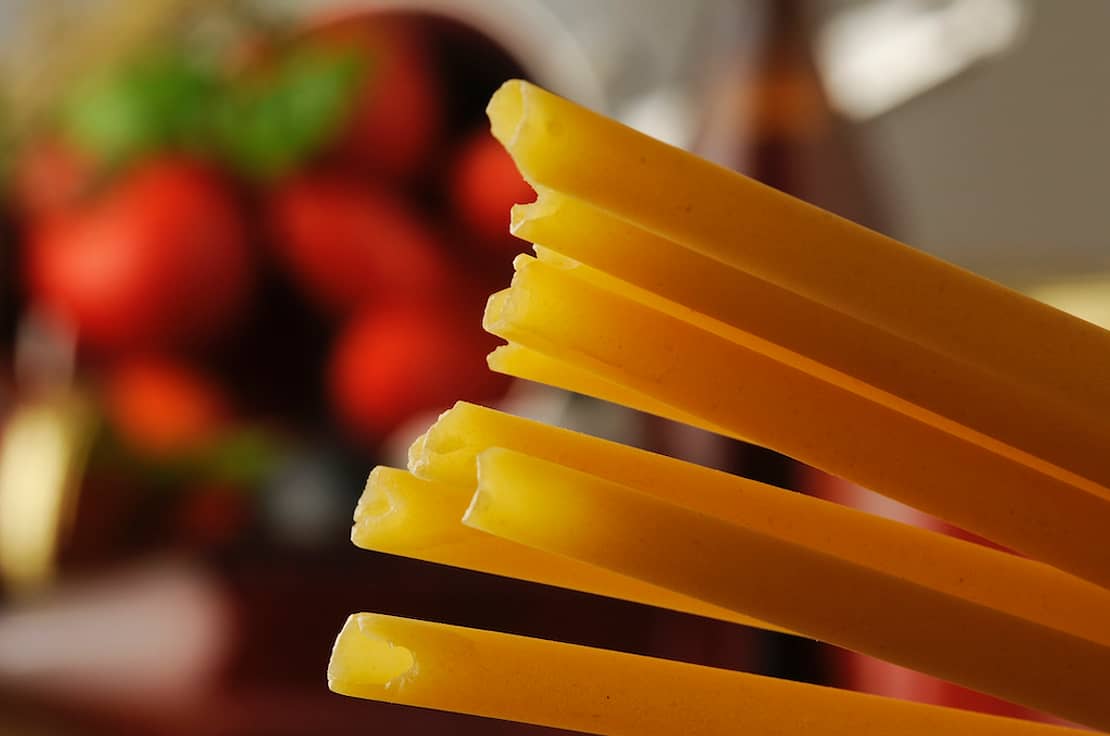 Traditional Pasta Shapes

Choose one of Naples' most common pasta shapes, often hard to find outside Italy: ziti, paccheri, schiaffoni, pasta mista, scialatielli, or reginelle. Look for pasta that is rough on the surface, prepared with durum wheat flour (grano duro), and with long cooking times. Be sure to cook it al dente at home to truly enjoy its unique quality!
Pasta di Gragnano is one of the most prestigious local kinds of pasta, made in family-run workshops in and near the town of Gragnano since the end of the 1700s. You can also find dried peperoncini (chili pepper) and Mediterranean herbs, canned tomatoes or tomato sauce, and vegetables or anchovies preserved under oil...all can be brought back home in your checked luggage and are excellent souvenirs from the food-centric city of Naples.
9. Unique Musical Instruments
Neapolitan music is beloved the world over and has been an important part of the city's history and culture for centuries. For music lovers, Naples is the perfect destination for exploring new traditional instruments - many made by hand - and even purchasing one to try at home.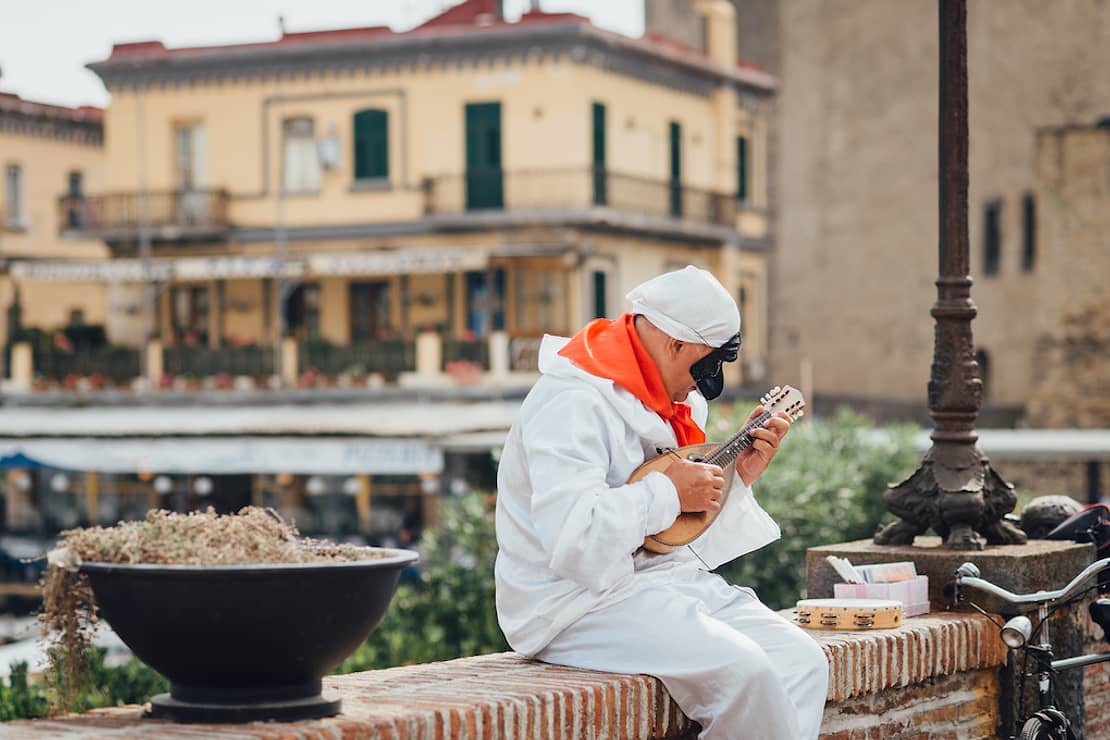 Tammurriate and Tarantelle

Instruments include the iconic mandolin and "castagnette" (similar to Spanish castanets), as well as tambourines used in traditional dances like the Tarantella and Tammurriata. That said, you can also find unique instruments with equally unique names like "triccheballacche" and "scetavajasse" (names which mean in the local dialect "for waking up"). Traditional instruments used for Neapolitan folk music are usually made with wood and other natural materials and crafted by hand in artisan workshops.
To explore the world of Neapolitan folk instruments, take a walk down Via San Sebastiano, known in Naples as "the musician street". This steep lane is located in the historic center of Naples right behind the Church of Santa Chiara near the Music Conservatory. Along Via San Sebastiano you'll find luthier workshops that have been crafting stringed instruments for centuries and still today produce a variety of instruments at different prices.
10. A Neapolitan Coffee Maker (and Coffee)
The final item that should be on your list of souvenirs to bring back from Naples is ideal for coffee lovers: a "cuccumella", the traditional Neapolitan coffee pot made from aluminum and used on the stovetop. This timeless coffee pot is made up of a number of parts that fit together and together brew a perfect Neapolitan espresso.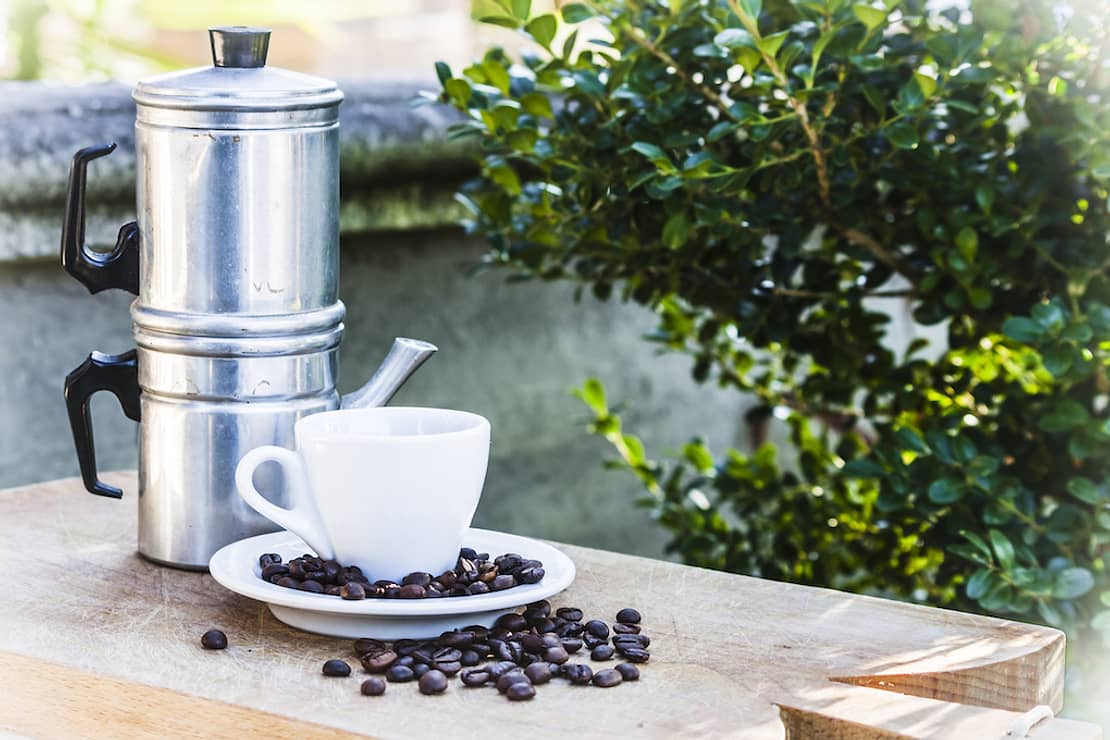 When the water inside the pot begins to boil, you need to take hold of the pot with both hands by its two handles and quickly flip it upside down to let the boiling water slowly seep through the coffee grounds and filter.
Be sure to pick up a package or two of ground Neapolitan espresso beans (Passalacqua is a local favorite), sold in grocery shops and coffee bars across the city.